Reinventing THE CUSTOMER AND
SUPPLIER EXPERIENCE
Esker's cloud platform is built to unlock strategic value in the cash conversion cycle. Using AI technologies, Esker transforms the way customers and suppliers interact with your organisation, while promoting more productive and engaged employees.
Procure-To-Pay
Procurement
Optimise spend requests & goods/services ordering.
Accounts Payable
Turn AP into a profit center with paper-free vendor invoice management.
Order-to-Cash
Order Management
Process fax, email & EDI orders quickly, accurately & 100% electronically.
Accounts Receivable
Reduce DSO with fast, compliant invoice delivery & strategic collections tools.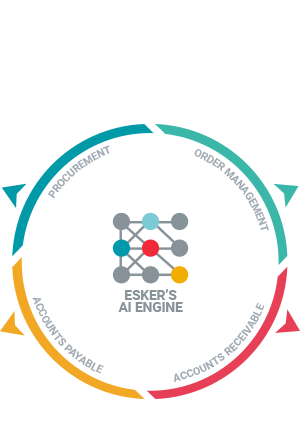 STORIES OF SUCCESS
Accounts Payable

9 out of 10 vendor invoices are processed in a single click thanks to machine-learning technology...

Order management

Processing orders 5x fasters thanks to 74% of orders being validated with no changes period...

Accounts Receivable

Reduced past-due percentage by 4% while improving the global customer experience...
Industries we serve
Esker serves customers worldwide with unique industry challenges. Rapidly deploy complex capabilities tailored to your needs!
Persona Block Text:

From worldwide e-invoicing compliance to protecting sensitive personal information, Esker's compliance and security standards for business processes include:

ISO 27001:2013
SSAE 18 & ISAE 3402
HIPAA & the HITECH Act

Persona Block Text:

When documents go through Esker, the data is instantly accessible via built-in dashboards. Users can choose what KPIs are displayed on their interface to:

Prioritise daily tasks & documents
Monitor process, team & individual performance
Schedule automatic reports

Persona Block Text:

Built from technologies designed to mimic human intelligence, Esker's AI Engine helps businesses make fast and intelligent decisions using:

Logic & rules
Decision trees
Machine learning & deep learning

Persona Block Text:

Esker offers a single, collaborative and cloud-based platform to automate the cash conversion cycle and grow without operational restraints thanks to:

Universal access (cloud, mobile, desktop)
Multi-tenant cloud platform
Worldwide multi-ERP integration

Agile approach: Adapting to change
Esker's Agile methodology promotes an environment of adaptation and responsiveness. Customers, business partners and their key stakeholders are actively involved in every phase of solution delivery in order to:
Experience solution benefits faster & earlier in the process
Invest resources in the most valuable solution features
Make decisions & modifications with context & collaboration
Reduce risks & overall costs of project implementation
Compliance & Certifications
Our platform is built on the highest level of safety and security standards. But we prefer to let our record of compliance and certifications speak for itself.


You're in good company. Explore some of the other companies and AP leaders that have benefited from automating their processes with Esker.